Features of CoolBlue® Water Filters
When it comes to water purification, why settle for less when you can have the best? Exclusively available at Simply Filters, Argonide's CoolBlue® system offers state-of-the-art water filtration capabilities.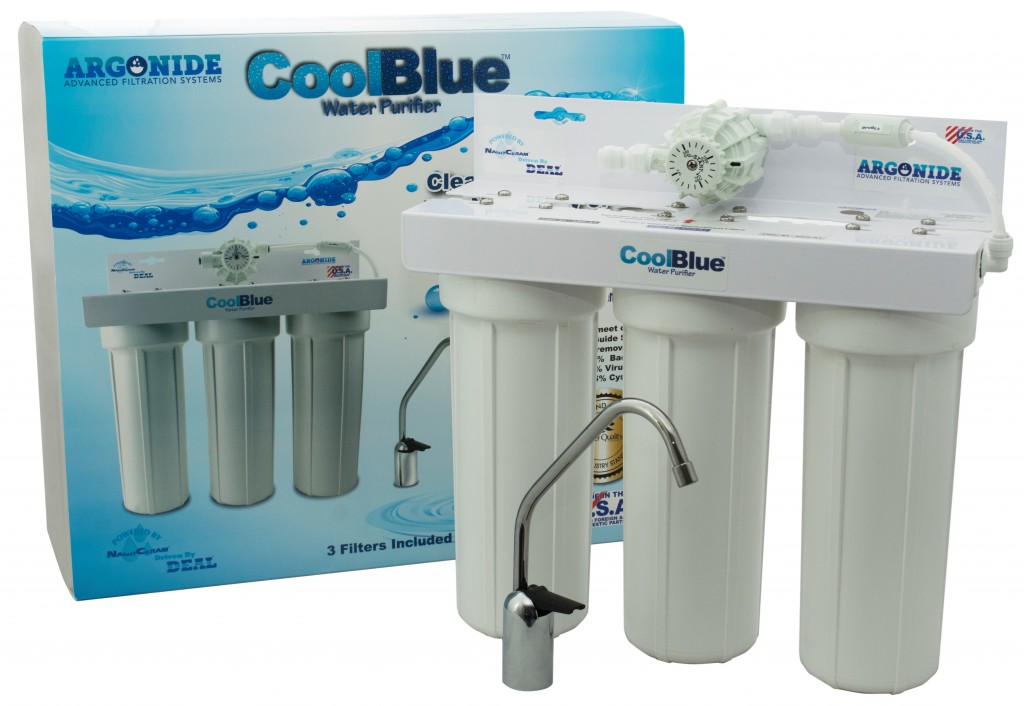 Focused on both performance and ease of use, this system is revolutionizing how we think about water purification.
Unparalleled Effectiveness – Operational even at high pH levels, CoolBlue® is versatile and can adapt to various water conditions.
Simple Installation – Featuring John Guest fittings, the CoolBlue® system is a breeze to install, ensuring you don't have to be an expert to enjoy pure water.
Controlled Flow – Integrated flow control assures consistent filtration performance, giving you peace of mind.
100% Usable Water – Say goodbye to wastage. With no back-flushing needed, CoolBlue® delivers 100% usable purified water.
Safe for Food Contact – Every component of CoolBlue® meets FDA requirements under 21CFR177.1520 for direct food contact applications, ensuring complete safety.
Impeccable Retention Characteristics
The filtration efficiency of CoolBlue® is verified by an impressive list of retention characteristics:
99.95% reduction of water-borne Cysts
99.99% reduction of Viruses
99.9999% reduction of Bacteria
Neutralization of Chlorine Taste & Odor
Lead Reduction up to 1,000 gallons
Turbidity and Class 1 Particulate Reduction
Triple-Stage Filtration Technology
CoolBlue® offers comprehensive purification through its ingenious three-stage design:
Stage 1: NanoCeram® Technology
This stage employs NanoCeram® technology, combined with activated carbon, for enhanced taste and removal of soluble contaminants.
Stage 2: Fiberdyne® Technology
The system's second layer features the highly advanced Fiberdyne® technology from Pentair® Filtration, adding an extra layer of reliability and protection.
Stage 3: Patented DEAL® Filtration Media
In the final stage, the patented DEAL® filtration media comes into play, offering an optimized polishing filter designed to capture and retain submicron particles including harmful bacteria and viruses.
Certified and Trustworthy
CoolBlue® adheres to the USEPA's Guide Standard for Microbiological Purifiers and is tested and certified by the International Association of Plumbing and Mechanical Officials (IAPMO).
Get Your CoolBlue® System at Simply Filters
Simply Filters is your one-stop destination for this ground-breaking technology. We are committed to bringing you solutions that make a real difference in your life. Purchase your CoolBlue® filter system from Simply Filters today for water that's not just clean, but genuinely purified.
For a comprehensive, reliable, and efficient water purification solution, look no further than the CoolBlue® system available exclusively at Simply Filters. With its state-of-the-art three-stage filtration and impressive retention characteristics, CoolBlue® sets a new standard in water quality. Don't compromise; choose CoolBlue® from Simply Filters for water you can trust.